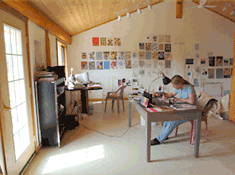 An Artist at Work - The Original Cabin and the Retreat Cabin - Crag lake by Ted Harrison -Crag Lake photograph by Emma Barr
Above Photo: Ted Harrison - Below Photo: The Ted Harrison Cabin for Artists in Residence
About the Ted Harrison Artist Retreat Society :
The Ted Harrison Artist Retreat Society operates a visual arts Retreat that is intended to give artists an opportunity to concentrate on the development of a creative project or body of work in a remote and inspirational setting. Our organization is interested in supporting the Retreat and arts outreach programs. We are also committed to partnering with other arts and community organizations in the Yukon.
​
A priority for Ted Harrison Artist Retreat Society is to contribute to the rich and diverse cultural life across the Yukon by facilitating an exchange of ideas, techniques, and experiences between resident artists and the larger community. Through the development of educational programming and community outreach, Ted Harrison Artist Retreat Society provides a forum for sharing the varied and distinct cultural art forms that define different art practices and regions across the country.
​
The Retreat is the inspiration and legacy of well-known Yukon artist, Ted Harrison, who generously donated his original cabin and property on the shores of Crag Lake, just south of Whitehorse, Yukon. A new log residence and studio has been built on the property, leaving intact the older, quaint cabin on the lakeshore. Ted has provided the opportunity for visual artists to focus on their work in an idyllic setting.
​
Program Objectives:
To provide artists with an opportunity to work in relative solitude,

in an inspirational setting and for an extended period of time.

To provide training opportunities for Northern artists and the community.

To encourage and develop an appreciation of the arts in our community through

the presentation of workshops, open studio visits, lectures and exhibitions.

To promote an exchange of ideas between artists of different cultural and regional backgrounds.

To increase the economic well being of artists and further the cultural industry

in the Yukon by investing in the development of the arts.
Eligibility:
Established and emerging professional Canadian and international visual artists are invited to apply
to the Ted Harrison Artist Retreat Society. Artists from the North (Nunavut, Northwest Territories and Yukon)
and First Nation artists from across the country are encouraged to apply.
Projects involving all disciplines are eligible, including but not limited to: Drawing, Painting, Sculpture, Printmaking, Photography, Textiles, Carving, Craftwork, Design, Multimedia, Installation, Film and Video.
Special consideration will be given to Illustrators of children's books.
Working Environment:
Throughout the year, the residence will accommodate different working environments, including:
Independent artists seeking solitude for their work. Artist couples, working on independent or
collaborative projects, who can share a living and working space.
​
Ted Harrison Artist Retreat Society
provides resident artists with:
- A one bedroom living and studio space, including all utilities at no cost to the artist.
- Canadian Artists' Representation/Le Front des Artistes Canadiens (CARFAC) fees
for community outreach work.
Residents are responsible for:
- All travel costs to and from Whitehorse, Yukon.
- Transportation to and from the Retreat at Crag Lake to Whitehorse, a distance of 90 km.
- All materials, including any specialized equipment needed.
- Providing an open studio visit at the cabin, and at least one community outreach
workshop or artist presentation.
​
The Ted Harrison Artist residency program is intended to give visual artists an opportunity to concentrate on the research, development, and production of a project or body of work in a remote and inspirational setting.
Ted Harrison is one of Canada's most popular artists. His love of the land and people of the Yukon has brought him national acclaim. His distinctive style of painting is both colourful and sophisticated yet retains an innocent charm, and appeals to young and old alike.
Find out more about Ted Harrison and
works available for sale
tedharrison.myshopify.com/pages/about